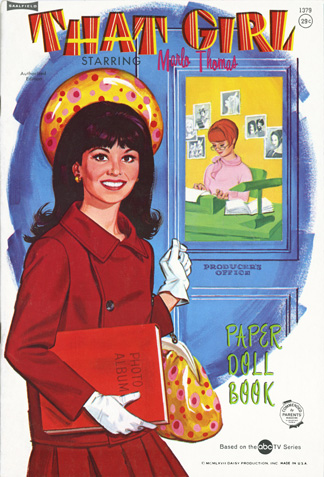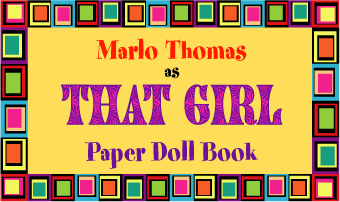 1967, Saalfield Publishing Company, #1379
This paper doll book was published during the first season of That Girl. It is notable in having three poses all of the title character. The front cover has a die-cut window opening onto an office scene background for one of the paper dolls. It was reprinted several times, also appearing under the numbers 4479, 1351, 4471, 6062, & 6066. According to Mary Young's "Paper Dolls and Their Artists", the artist was Jeanne Voelz. Other celebrity paper dolls by Voelz include Sandra Dee, Susan Dey, Sally Field, Jane Fonda, Sheri Lewis, Kim Novak, Donna Reed, Tuesday Weld, and more.
Click on an image to open a larger version in its own window.
About the Series
The sitcom That Girl ran for four seasons on ABC, starting in September 1966. Marlo Thomas starred as Ann Marie (her surname), a budding actress who left her rural home in Brewster, New York to start a career in the Big Apple. The opening shots showed street scenes of New York with Ann whirling in delight. Since her acting gigs were typically TV commercials and bit parts in theatre plays, she supported herself with a string of temp jobs in offices and department stores. The series was a trend-setter, spawning a wave of "working woman" sitcoms such as The Mary Tyler Moore Show and Rhoda.
Supporting characters included her boyfriend, Don Hollinger; her parents, Lou and Helen; her neighbors, Leon and Judy Bessemer; her friends, Jerry and Ruth Bauman; and her agents, Harvey Peck and George Lester. Marlo's father Danny Thomas made a few guest appearances in cameo roles.