This book was published in October 1954, in time for the holiday gift season, and advertised in McCall's magazine. It contains 4 punchout pages of dolls and play pieces, 6 costume pages, and 26 story pages, many of which function as play scenes for the dolls. The inside pages are 8.75 by 11 inches. The front and back covers are 9 by 11.5 inches and serve as storage envelopes.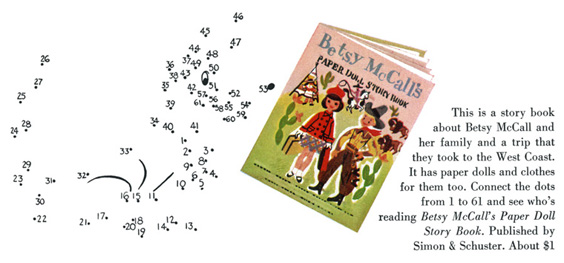 This group of web pages allows flipping through the book two pages at a time. There is also an overview page to view small thumbnails of all the pages at once.
I am working on making cleaned "ink saver" images with white backgrounds. I do not recommend printing the images with natural cream-colored backgrounds, because it uses a lot of ink. The best results will be obtained by printing the white background pages on cream cardstock.