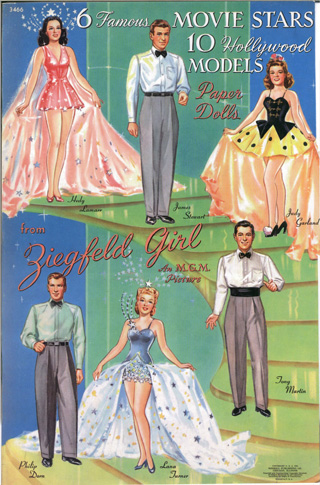 The original Ziegfeld Girl paper doll book was published in 1941, by Merrill Publishing, catalog #3366, and is now very rare to find uncut. The images on this page were scanned from a special not-for-sale reprint made by Jean Woodcock in the late eighties as a convention souvenir.
The 1941 book was 17" tall by 11.5" wide. The gift reprint is 12.5" tall by 8.25" wide at the bottom, and just over 8" wide at the top. That is, it is not cut square. The pages in the reprint are therefore slightly cropped on the outside edge, especially in the top half. I have digitally extended the front cover in the area of Judy Garland's name and skirt by about 1/4 inch. These scanned images have been sized down even more, so that the page fits within a 10" tall printable area, to allow printing them on standard letter paper with a 1/2" margin. Since this reduction makes the dolls and clothes very small, I have made more playable versions by digitally "cutting out" the dolls and outfits and pasting them onto 23 separate pages, so that the larger scale of the original book can be better approximated. There is a link at the bottom of this page to the cut-out images.
Click on an image to see a somewhat larger version (75 dpi, 495 x 750 pixels), suitable for on-screen viewing. The link below each picture goes to a higher-res version (150 dpi, 990 x 1500 pixels) for a better quality print.