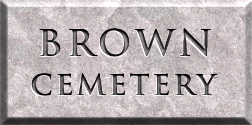 Cranston Road, Rowan County, Kentucky
Location of Cemetery:
Cranston Road (Rt. 377): From Morehead, take Rt. 32 West 1.0 mile past I-64 to Rt. 377 (Cranston "Road), right 14.3 miles on Rt. 377 to near the Lewis County line, turn right onto private drive in front of Betty Tackett's red barn, follow drive (in front of the house, across a field and creek to edge of the woods at the foot of hill, continue on around ridge of the hill, back across creek) 0.5 mile. Walk through the woods about 250 feet near the creek.

Global Position: N 38° 22.877' W 83° 24.558'
---
Brown Cemetery #3:
Eleven (11) Unmarked Graves, including:

One unmarked grave known to be Pete Brown. One unmarked grave known to be a 12 year old Bloomfield boy who accidentally shot himself. Probably some of the other unmarked graves are children of Pete Brown.
---
Author:
This cemetery listing is authored by the Rowan County Kentucky Historical Society. It is one of over 375 cemetery surveys available in book or CD format from the Society.

Page design and graphics by Teri Pettit. The titling font used in the cemetery name plaques is Adobe Trajan Bold, designed by Carol Twombly.
Source of Information:
Survey of the cemetery.
Acknowledgment:
The Historical Society and specifically the Cemetery Committee, wishes to acknowledge and extend a special thanks to Tennis Brown, Betty Sharp & Dana Mathews of Morehead, Kentucky for surveying this cemetery on 29 Nov 1998, and to Dewie E. Black of LaBelle, Florida for the documentation.
Copy Rights:
All information contained in this document may be freely copied for personal use, however, none of the information in part or in whole, shall be used for profit.
For additions or corrections to this file, contact:

Dewie E. Black, P. O. Box 1134, LaBelle, FL 33975
phone: 941-675-0205 e-mail: <dewie@olsusa.com>
---