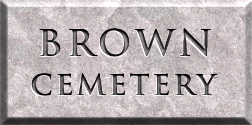 Mt. Hope Road, Rowan County, Kentucky
Location of Cemetery:
Mt. Hope Road, off Rt. 1274 (Pretty Ridge): From Morehead, US-60 &amp Rt. 519, take Rt. 519 to Rt. 801, right 0.9 mile on Rt. 801 to Rt. 1274, left 2.5 miles o Rt. 1274 to Mt. Hope Road, right on Mt. Hope Road 0.35 mile to a drivewy on the right, enter the driveway then park. Walk uphill about 50 ft. to the cemetery.

Global Position: N 38° 03.657' W 83° 26.553'
---
Brown Cemetery #4:
Name
Born
Died
Stone
Notes
Brown, Bert
Brown, Maude
26 Sep 1906
7 Mar 1905
9 Nov 1979
26 Apr 1986
DS : H
DS : W
[Husband of Maude Brown]
[Wife of Bert Brown]
---
Author:
This cemetery listing is authored by the Rowan County Kentucky Historical Society. It is one of over 375 cemetery surveys available in book or CD format from the Society.

Page design and graphics by Teri Pettit. The titling font used in the cemetery name plaques is Adobe Trajan Bold, designed by Carol Twombly.
Source of Information:
Survey of the cemetery.
Acknowledgment:
The Historical Society and specifically the Cemetery Committee, wishes to acknowledge and extend a special thanks to Bill & Betty Sharp, Helen Surmont & Dana Mathews of Morehead, Kentucky for surveying this cemetery on 21 Feb 1999, and to Dewie E. Black of LaBelle, Florida for the documentation.
Copy Rights:
All information contained in this document may be freely copied for personal use, however, none of the information in part or in whole, shall be used for profit.
For additions or corrections to this file, contact:

Dewie E. Black, P. O. Box 1134, LaBelle, FL 33975
phone: 941-675-0205 e-mail: <dewie@olsusa.com>
---