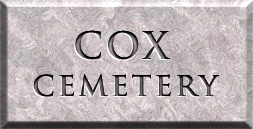 Trent Ridge, Rowan County, Kentucky
Location of Cemetery:
From Morehead, Rt. 32 East past Elliottville to Wagner Store (Rt. 32 & Rt. 173). Continue on Rt. 32 0.6 miles to Trent Ridge Road. Right on Trent Ridge Road about 2.7 miles to end of the road. Left on Jason Trent Cemetery Road 0.7 miles to end of the road, down a steep hill.
---
Laid to Rest here:
NAME
BORN
DIED
STONE
NOTES
Cox, Abigail
30 May 1870
30 Nov 1947
SS
Cox, Anna Mae
18 Jul 1914
10 Jul 1915
SS
Cox, Choster
28 Mar 1922
01 Dec 1923
SS
Son of Henry & Meda Cox
Cox, Ollie J.
06 Mar 1921
31 Mar 1921
DS
Brother, Child of Lother & Stella Cox
Cox, Genevie
11 Dec 1918
22 Mar 1921
DS
Sister, Child of Lother & Stella Cox
Cox, John M.
27 May 1869
07 May 1948
SS
Cox, Theemon
29 Nov 1902
02 Sep 1931
SS
Cox, W. Solomon
Cox, Pearlie J.
08 Nov 1874
13 May 1882
22 Dec 1945
19 Jul 1956
DS : H
DS : W
[Husband of Pearlie J. Cox]
[Wife of W. Solomon Cox]
Cox, William Emory
11 Sep 1909
08 Jul 1910
SS
Crose, Eugene
12 Dec 1930
16 Jan 1931
SS
Mabry, Martha C.
31 Aug 1899
18 Mar 1919
SS
Wife of A. J. Mabry
Note: A number of unmarked grave sites were noted.
---
Author:
This cemetery listing is authored by the Rowan County Kentucky Historical Society. It is one of over 375 cemetery surveys available in book or CD format from the Society.

Page design and graphics by Teri Pettit. The titling font used in the cemetery name plaques is Adobe Trajan Bold, designed by Carol Twombly.
Source of Information:
Personal records, Funeral Homes and inventory of the cemetery.
Acknowledgment:
The Historical Society and specifically the Cemetery Committee, wishes to acknowledge and extend a special thanks to Dewie E. Black for his work in inventorying this cemetery on July 6, 1997.
Copy Rights:
All information contained in this document may be freely copied for personal use, however, none of the information in part or in whole, shall be used for profit.
---