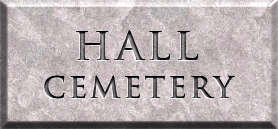 Slab Camp Road, Rowan County, Kentucky
Location of Cemetery:
From Morehead, US-60 & Rt. 519 (Clearfield Road), go east on Rt. 519 about 1.5 miles to Rt. 1167 (Dry Creek Road), left on Rt. 1167 to top of the hill & junction. Right on East Clack Mt. Road to Jones Ridge Road, left on Jones Ridge Road to Slab Camp Road, left on Slab Camp Road 1.1 mile to left bend that goes to the Perry Farm. Park in the driveway and walk about 400 yards straight up a log road that is left of the house. The path circles back to the right around the ridge. Cemetery is on the left side of the hill.

Global Position: N 38° 07.124' W 83° 21.078'
---
Hall Cemetery:
Name
Born
Died
Stone
Notes
Baker, Clemmie Hall
10 Jan 1859
13 Jul 1939
SS
[Daughter of L.H.B. & Nettie (Privett) Tolliver]
[Wife of Ben F. Hall & Solomon Baker]
Hall, Benj F.
31 Mar 1852
10 Dec 1895
SS
[Son of George M. & Susan (Downing) Hall]
[Husband of Mary Clementine "Clemmie" Hall]
Hall, G. M. [George Martin]
13 Aug 1827
22 Nov 1900
SS
[Son of Isaac & Annie (Martin) Hall]
[Husband of Susan Hall]
Hall, Susan
19 Jun 1832
22 Nov 1900
SS
[Daughter of Dennis & Mary (McCormick) Downing]
[Wife of George M. Hall]
Hall, Wiley V.
8 Sep 1878
4 Oct 1915
SS
[Son of Ben & Clemmie Hall]
Riddle, E. "Hie" M. [Etta Myrtle]
1894
1931
SS
[Daughter of Ben & Clemmie Hall]
[Wife of Millard Riddle]
Tolliver, Mrs. Nettie
5 Mar 1826
25 Sep 1900
SS
[Nancy Arnette Privett]
[Wife of L. H. B. Tolliver]
Also:

Unmarked (1) by Wiley V. Hall
Unmarked (1) between E. M. Riddle & Benj F. Hall
Unmarked (1) by G. M. Hall
Unmarked (1) by Nettie Tolliver
---
Author:
This cemetery listing is authored by the Rowan County Kentucky Historical Society. It is one of over 375 cemetery surveys available in book or CD format from the Society.

Page design and graphics by Teri Pettit. The titling font used in the cemetery name plaques is Adobe Trajan Bold, designed by Carol Twombly.
Source of Information:
Survey of the cemetery.
Acknowledgment:
The Historical Society and specifically the Cemetery Committee, wishes to acknowledge and extend a special thanks to Gordon L. Jones Jr., Dana Mathews, Marsha Riggsby, Betty Sharp and Ethel Jones all of Morehead, Kentucky for their work in surveying this cemetery on 25 Apr 1998, and to Dewie E. Black of LaBelle, Florida for the documentation.
Copy Rights:
All information contained in this document may be freely copied for personal use, however, none of the information in part or in whole, shall be used for profit.
For additions or corrections to this file, contact:

Dewie E. Black, P. O. Box 1134, LaBelle, FL 33975
phone: 941-675-0205 e-mail: <dewie@olsusa.com>
---