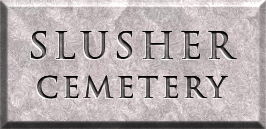 Oak Grove Road, Rowan County, Kentucky
Location of Cemetery:
From Clearfield, east on Rt. 519 to Oak Grove Road (Rt. 1167), left on Oak Grove Road about 5.5 miles to the cemetery on the left.

Global Position: N 38° 08.778' W 83° 16.788'
---
Slusher Cemetery:
| Name | Born | Died | Stone | Notes |
| --- | --- | --- | --- | --- |
| Slusher, Joseph H., Dr. | [21 Jan 1817] | [>1880] | CRP | [Husband of Nancy Ann Wade, see note] |
Note:

From the memory of J. Earl McBrayer, founder and former owner of Forest Lawn Memorial Gardens Cemetery, and a prominent resident of Rowan County, having known and being known by just about every one in this area for miles around, reports that Doctor Joseph H. Slusher was an herbal doctor and ginseng gatherer. (He did not have a medical degree, but was known as Doctor Slusher, and reported his occupation as "physician" on the federal censuses.) Earl reports this pile of stone as having been a "Crypt" built from local sand stone which over the years have been reduced to a mere pile of stones. There is also the possibility that this pile of stones was a "Cairn" erected as a memorial to Doctor Joseph Slusher.

Joseph H. Slusher is the gr-gr-gr-grandfather of Teri Pettit, the designer of this web site. For further information about his family, see the family group sheet from her genealogy database.
---
Author:
This cemetery listing is authored by the Rowan County Kentucky Historical Society. It is one of over 375 cemetery surveys available in book or CD format from the Society.

Page design and graphics by Teri Pettit. The titling font used in the cemetery name plaques is Adobe Trajan Bold, designed by Carol Twombly.
Source of Information:
Survey of the cemetery.
Acknowledgment:
The Historical Society and specifically the Cemetery Committee, wishes to acknowledge and extend a special thanks to Jewel Moore of Rowan County, Kentucky for locating and surveying this cemetery in 1998, and to Dewie E. Black of LaBelle, Florida for the documentation.
Copy Rights:
All information contained in this document may be freely copied for personal use, however, none of the information in part or in whole, shall be used for profit.
For additions or corrections to this file, contact:

Dewie E. Black, P. O. Box 1134, LaBelle, FL 33975
phone: 941-675-0205 e-mail: <dewie@olsusa.com>
---