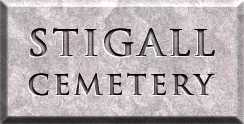 Cranston Road, Rowan County, Kentucky
Location of Cemetery:
From Morehead, Rt. 32 west to Rt. 377 (Cranston Road), right on hill just before the Caudill cemetery, on the left side of the road.
---
Stigall Cemetery #1:
Name
Born
Died
Stone
Notes
Cooper, Jammie
Cooper, Martha
26 Feb 1887
7 Nov 1890
8 Jul 1959
9 Nov 1983
DS : H
DS : W
[Husband of Martha Cooper]
[Wife of Jammie Cooper]
Sparks, Phyliss Ann
9 Jun 1959
20 Mar 1960
SS
Steagall, Little Billie
24 Jul 1932
12 Jul 1934
SS
Steagall, Hobart A.
Steagall, Wicie
1898
1898
1970
1971
DS : H
DS : W
[Husb of Wicie Steagall]
[Wife of Hobart A. Steagall]
Steagall, Jessee, Jr.
20 Oct 1887
19 Dec 1955
SS
"Ky US Army MG Co. 334 Inf. WWI"
Steagall, Jessee, Sr.
23 Nov 1827
28 Sep 1904
SS : H
[Husband of Martha Stigall]
Steagall, Martha
Jan 1832
25 Apr 1915
SS : W
"Wife of Jessee Stegall, Sr"
Steagall, William
Steagall, Jane
1862
1863
1945
1940
DS : H
DS : W
[Husband of Jane Steagall]
[Wife of William Steagall]
Steagall, William Alfred
27 Feb 1902
2 Dec 1902
SS : S
[Son of W. R. & Sarah J. Steagall]
Steagall, Jimmy E.
19 Mar 1943
10 Apr 1995
SS : S
[Son of W. R. & Sarah J. Steagall]
Steagall, Lillie S.
16 Oct 1904
9 Apr 1923
SS : D
[Daug. of W. R. & Sarah J. Steagall]
Fisher, Mary E.
17 Mar 1885
2 Aug 1914
SS : D
"Daug. of W. R. & Sarah J. Stigall"
Steagall, Andy J.
4 Feb 1895
26 Dec 1896
SS : S
[Son of W. R. & Sarah J. Steagall]
Stegall, Denny Thomas
16 Dec 1907
5 Apr 1953
SS
Stigall, Dee
1935
1985
PLK
Stigall, Eugene
1934
1996
PLK
Note:Three (3) unmarked stones, same row as Mary E. Fisher
---
Author:
This cemetery listing is authored by the Rowan County Kentucky Historical Society. It is one of over 375 cemetery surveys available in book or CD format from the Society.

Page design and graphics by Teri Pettit. The titling font used in the cemetery name plaques is Adobe Trajan Bold, designed by Carol Twombly.
Source of Information:
Inventory of the cemetery.
Acknowledgment:
The Historical Society and specifically the Cemetery Committee, wishes to acknowledge and extend a special thanks to Dana Mathews and Shane Mathews of Rowan County for their work in inventorying this cemetery on July 29, 1997, and to Dewie E. Black of LaBelle, Florida for the documentation.
Copy Rights:
All information contained in this document may be freely copied for personal use, however, none of the information in part or in whole, shall be used for profit.
---