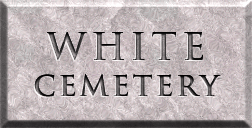 Triplett, Rowan County, Kentucky
Location of Cemetery:
From Morehead, west on Rt. 32 to Rt. 377 (Cranston Rd), right on Rt. 377, 7.65 miles to Route 799 (Big Perry Road), right on Rt. 799 (Big Perry Road) 0.3 mile to Holly Fork on left, left on Holly Fork 0.2 miles to White Cemetery, in second curve, on right side of the hill, up about 20 feet, concrete steps.
---
White Cemetery #1:
Name
Born
Died
Stone
Notes
Crabtree, Carl A.
Crabtree, Edna
21 Sep 1897
12 Feb 1899
24 Sep 1963
28 Jan 1972
DS : H
DS : W
[Husband of Edna Crabtree]
[Wife of Carl A. Crabtree]
White, Charles M.
White, Cora R.
1872
1879
1959
1949
DS : H
DS : W
[Husband of Cora R. White]
[Wife of Charles M. White]
White, Grover C.
13 Nov 1884
30 Nov 1945
SS
White, Lucy Mae
4 Jan 1901
10 Feb 1901
SS
White, Roy E.
31 May 1904
1 Jun 1941
SS
Also:

Unmarked (1) above Cora R. White
Unmarked (1) by L. M. White
Possibly one additional unmarked grave by Charles M. White

---
Author:
This cemetery listing is authored by the Rowan County Kentucky Historical Society. It is one of over 375 cemetery surveys available in book or CD format from the Society.

Page design and graphics by Teri Pettit. The titling font used in the cemetery name plaques is Adobe Trajan Bold, designed by Carol Twombly.
Source of Information:
Survey of the cemetery.
Acknowledgment:
The Historical Society and specifically the Cemetery Committee, wishes to acknowledge and extend a special thanks to Dana Mathews of Morehead, Kentucky for her work in surveying this cemetery on 6 Nov 1997, and to Dewie E. Black of LaBelle, Florida for the documentation.
Copy Rights:
All information contained in this document may be freely copied for personal use, however, none of the information in part or in whole, shall be used for profit.
---