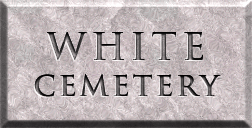 Christy Creek Road, Rowan County, Kentucky
Location of Cemetery:
From Morehead, US-60 & Rt. 32: East about 1.5 mile on US-60 to Christy Creek Road (Rt. 32 Ease), right [ ] miles on Rt. 32 to a driveway, left on this driveway about half way the hill to the cemetery. (Location instructions incomplete.)

Global Position: N 38° 11.535' W 83° 17.684'
---
White Cemetery #3:
Name
Born
Died
Stone
Notes
Arnold, Andrew
27 Jul 1809
9 Jan 1886
SS
Dawson, Jessy L.
1 Jan 1903
1 Jan 1903
SS
"Son of M. A. & J. W. Dawson"
Fultz, Samey
Fultz, Elizzie
21 Jul 1855
30 Apr 1849
4 Mar 1905
-
DS : H
DS : W
[Husband of Elizzie Fultz]
[Wife of Samey Fultz]
Honeycut, Martha E.
30 Jan 1880
31 Oct 1896
SS
"Wife of Wm. Honeycut"
Pioggia, Sylvia Katherine
28 Mar 1948
29 Aug 1998
PLQ
Thomas, Elva
15 Nov 1877
Feb 1910
SS
Thomas, Leonard
Nov. 1907
Jan 1917
SS
White, Isaac N.
7 Sep 1823
7 May 1848
SS
White, Robert E.
8 Feb 1827
30 Jun 1848
SS
Also:

Unmarked (1) at foot of Robert E. White
Unmarked (4) by Isaac N. White
Unidentified "M.S." carved on head stone by Isaac N. White
Unmarked (2) by M. S., by Isaac N. White
Unmarked (1) by Leonard Thomas
Unmarked (5) by Fultz stone
Unmarked (1) at head of Fultz stone
Unmarked (1) in lower left corner by itself
Unmarked (5) by Samey Fultz
Unmarked (3) stones by Thomas stones
Unmarked (7) scattered all over the upper side

From other sources the following burials were noted and could well be some of the unmarked graves:


Mary Click
Eveline Fouch
Stanford Muse
John R. Thomas
Martha Thomas
John P. White
---
Author:
This cemetery listing is authored by the Rowan County Kentucky Historical Society. It is one of over 375 cemetery surveys available in book or CD format from the Society.

Page design and graphics by Teri Pettit. The titling font used in the cemetery name plaques is Adobe Trajan Bold, designed by Carol Twombly.
Source of Information:
Survey of the cemetery.
Acknowledgment:
The Historical Society and specifically the Cemetery Committee, wishes to acknowledge and extend a special thanks to the members of the Cemetery Committee who surveyed this cemetery in 1998, and to Dewie E. Black of LaBelle, Florida for the documentation.
Copy Rights:
All information contained in this document may be freely copied for personal use, however, none of the information in part or in whole, shall be used for profit.
For additions or corrections to this file, contact:

Dewie E. Black, P. O. Box 1134, LaBelle, FL 33975
phone: 941-675-0205 e-mail: <dewie@olsusa.com>
---